Leather industry events in Shanghai
Reporting on a number of major events recently held for leather producers and users.
Image © Yhz1221
September proved to be a very busy time for the global leather industry. In Europe, events such as Le Cuir à Paris, Leather Working Group and Lineapelle have been squeezed into the calendar. In the USA, the NE and NW Apparel shows maintained their regular September position and in Shanghai, three major industry events took place with full industry support.
All China Leather Exhibition (ACLE)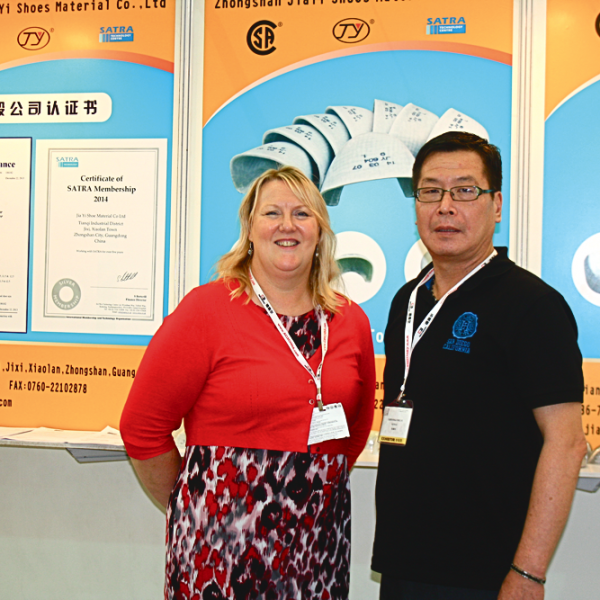 Now in its 17th year, the combined 2014 event of the All China Leather Exhibition, China International Footwear Fair (CIFF) and Moda Shanghai continues to be recognised as a leading business platform for the international and domestic China leather industry. This year, there were 1,337 exhibitors from 38 countries showcasing their products and services. The growth of the fair over this time appears to be a reflection of the expansion of China's leather industry, which serves both the domestic market and an annual export market of billions of pairs of shoes, in addition to leathergoods and leather. To underpin this vast export business, China needs to import around $7 billion-worth of materials such as leather, chemical products and components, and companies offering these were found at the fair from many countries. Equipment and machinery suppliers were also present to exhibit their latest developments.
A considerable number of SATRA members exhibited, and the general impression of the fair was that the emphasis from buyers was not purely on price, but also on quality of the product and technological developments. This is where members remarked that SATRA was well placed to assist them to meet the demands.
Tannery of the Year
The Tannery of the Year award aims to find the best examples of facilities that have built the principles of corporate social responsibility (CSR) and best practice into their way of working. The competition ran for the first time in 2010, culminating in the Ethiopia Tannery Share Company picking up the inaugural global award. The second edition reached its conclusion in September 2011, with Heller-Leder from Germany receiving the global accolade. In March 2013, PrimeAsia China was the winner. The grand final has alternated between Hong Kong and Shanghai, timed to coincide with major industry exhibitions.
Each programme has recognised five regional winners – for Africa, the Americas, Asia (excluding China), China and Europe – from which the global winner has emerged each time. The 2014 Award was as competitive as the previous programmes, and for the first time included tanneries from Australia, Austria and Portugal, while maintaining representation from Brazil, China, the Dominican Republic, Ethiopia and Vietnam.
All Tannery of the Year nominees must be committed to corporate social responsibility. They work as hard as they can to help their local communities, sharing energy, water and other resources, and making the least impact they possibly can on the environment. They also need to be sound businesses, operating on a stable and sustainable financial platform. Making the decision as to which tannery was most deserving of the 'Tannery of the Year 2014' title was a difficult task for the panel of independent judges which was chaired by the chief operating officer of ICG Group Steve Jesseph. The rest of the panel comprised of Paul Pearson, secretary of the International Council of Tanners (ICT), Ivan Kral United Nations Industrial Development Organisation (UNIDO) project co-ordinator for leather, Dietrich Tegtmeyer, vice-president of the International Union of Leather Technologists and Chemists Societies (IULTCS) and coaching consultant Kim Reid, who has 30 years' experience, predominantly in senior human resources roles in the aviation and defence sectors.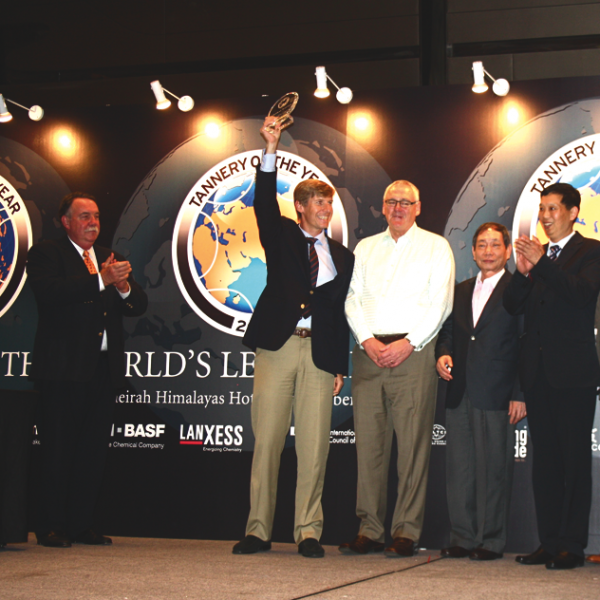 The winner for 2014 was automotive and furniture leather tannery Wollsdorf Leather from Austria.
"Tannery of the Year was launched to provide a platform for good news about the leather industry, detailing positive initiatives that tanners from every part of the world have engaged in with their workers, their neighbours and the environment," said event organiser and publisher Simon Yarwood. "Customers, employees, suppliers, competitors, local and national media, and even heads of government have taken notice of what we are doing here."
Automotive Leather Supply Chain Conference
Another well-attended industry event was the Automotive Leather Supply Chain Conference. This covered a varied range of topics, such as 'The implications to the automotive leather industry of increased urbanisation', delivered by Professor Mike Redwood from the University of Northampton, 'Labelling and designation of automotive leather' by ICT secretary Paul Pearson, and 'Automated leather cutting' by Lectra's Christophe Gaysse. Other topics covered included 'Modern leather interior design for vehicles' by Florian Schrey from GST Seton Autoleather, 'Environmental drivers influencing the processing of leather', presented by Dr Yu Mei from BASF, and 'An overview of the manufacture of internal vehicle components using leather' by Valerio Garcia from Faurecia Interior Systems.
The Keynote presentation was delivered by Dr Marc Stang from Bentley Motors. It was entitled 'Leather – an indispensable part of Bentley DNA', and proved to be a fascinating insight into a major luxury manufacturer. The presentations included facts such as the Bentley Mulsanne uses the highest amount of leather in the motor manufacturer's range – an area of 44 square metres, taken from 16 hides and then cut into 593 individual parts.
SATRA offers an extensive automotive materials and components testing service, with a range of tests such as physical, chemical, environmental, acoustic, flammability and colour testing. These independent testing services assist manufacturers and suppliers in the automotive supply chain against a wide range of OEM testing specifications, national (BS, ASTM, DIN, JASO) and international (ISO, EN, SAE) standards. Significant investment has been made by SATRA in order to offer these services in a state-of-the-art facility. The conference provided a good opportunity to meet with many of our existing and
potential customers to discuss how we can assist with their quality and production issues.
Publishing Data
This article was originally published on page 12 of the November 2014 issue of SATRA Bulletin.
Other articles from this issue »
---