Shell of new DESMA factory is complete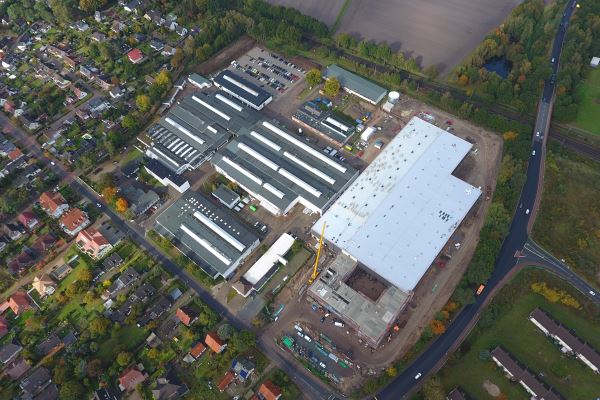 Footwear machinery manufacturer DESMA has announced that the fabric of its new production and office building has been completed only four months after the groundbreaking ceremony.
Commenting on the new complex being built on Desmastrasse in the north German town of Achim, DESMA managing director Klaus Freese said: "Everything is going exactly according to plan, in terms of both time and costs. We will start to tackle the interior work over the next few months and plan to move into the new building in late summer 2020."
Called by DESMA 'the factory of the future', the facility will consist of a combined production and office complex, with a 12,000 square metre factory building, as well as a three-storey office and staff building with a floor area of 4,500 square metres. According to DESMA, the new plant is intended to optimise workflows, make the company's processes more effective and productive, and simultaneously improve working conditions for members of staff.
The photograph above shows DESMA's 'factory of the future' under construction on the right-hand side of the site.
Publishing Data
This article was originally published on page 3 of the December 2019 issue of SATRA Bulletin.
Other articles from this issue »
---