A year in the life of an artist
SATRA's centenary sculpture commission in the making
4th June 2019
His Royal Highness The Duke of Gloucester recently unveiled a sculpture commissioned by SATRA as part of its centenary but the commission and development itself is a fascinating story.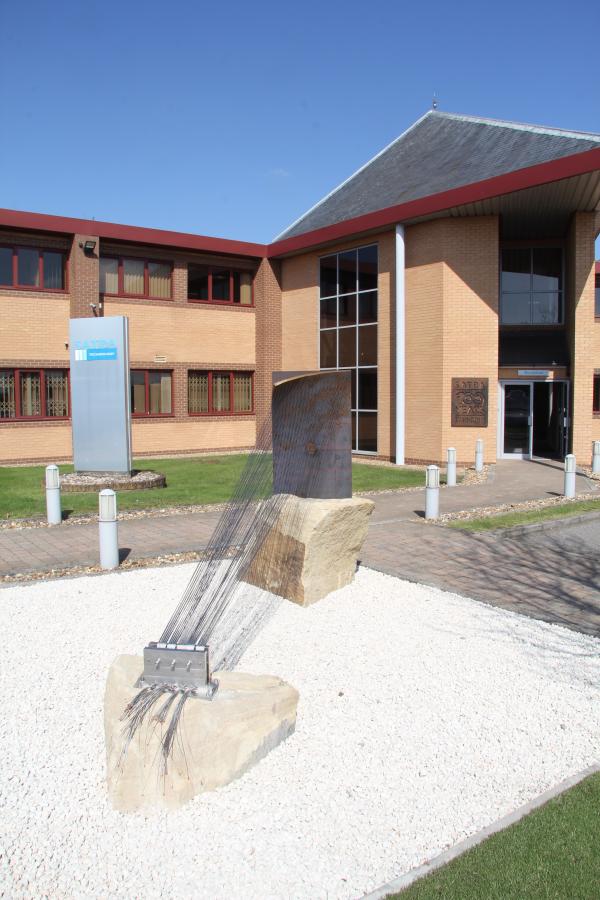 Over the years SATRA has come to stand for scientific scrutiny and technical innovation throughout the world, first in the footwear industry and then in other industries like furniture and personal protective equipment. Now, in 2019, everywhere you turn there are products that people use every day where SATRA has played a role in making them safer, better performing and more sustainable. Very few users of these products, however, know that SATRA even exists. How do you represent such a silent impact?
When SATRA first thought about commissioning a work of art to stand as a reminder of 100 years of research and testing it hoped it would be able to find a local Northamptonshire artist who could capture the essence of the organisation. Sculptor Martyn Steele was chosen after he was inspired by the forces of stress and tension played out on materials under test in SATRA's laboratories.
Initial talks began in 2018 and a concept began to take shape where solid COR-TEN steel plates would be fashioned as if pulled apart by one hundred stainless steel cables clamped and tightened in stone. As well as representing forces in action, the idea was to create a dynamic contrast between weathering steel and stainless steel to emphasise the uncompromising nature of scientific investigation as materials and components come and go over time.
It has been an interesting journey from the early sketches through quarry stone search and foundry fabrication to the actual site installation. The artist has had to think again when the technical drawings didn't quite work out in practice and new solutions had to be found. And this in itself is part of the beauty of the work and its organic evolving nature. It is also a reflection of all the SATRA scientists and technologists past and present who have faced the unexpected and found an answer.
The work is called No Compromise and located at SATRA's main headquarters in Kettering in the United Kingdom.