© SATRA Technology Centre. Reproduction is not permitted in any form without prior written permission from SATRA.

Testing chainmail
Chainmail plays an important role in shielding the wearer from possible injury.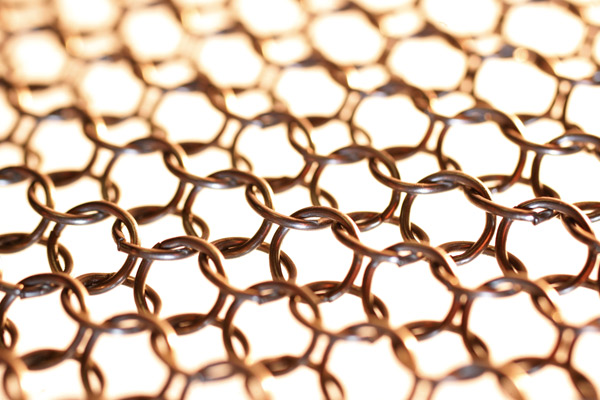 Clothing and gloves made from chainmail are used in many industries where workers need protecting from cutting and stabbing accidents in the workplace.
Chainmail gloves typically protect workers in the meat boning industry. In this scenerio, a protective ensemble will consist of a chainmail apron and a chainmail glove on the left hand as the worker will normally hold a knife or powered cutter in the right hand. Although many other cut-resistant materials have been developed for use with hand-held knives, chainmail remains the material of choice – it is easy to clean and sterilise by immersing in very hot water and this is an important factor in the meat industry to prevent contamination.
In the apparel industry it is common to use a motorised rotating blade to cut several thicknesses of fabric at once for reasons of efficiency. The knife is guided using one hand and the other hand, the one at risk, is used to hold down the layers of cloth. Chainmail has been shown to offer the greatest resistance to cutting by powered rotating knives.
In Europe all such chainmail products are classified as personal protective equipment (PPE) and are covered by the PPE Regulation, which requires that they are CE marked before being placed on the European market. Chainmail products are classified as category 2 or 'intermediate' PPE, requiring a notified body such as SATRA to perform a type examination before they can be CE marked. Testing to an appropriate harmonised standard is usually required as part of this process. The standard is EN 14328:2005 in the case of chainmail gloves for powered tools.
EN 14328:2005 contains both requirements and test procedures for gloves for use with powered knives. The impact cut resistance test is specified in EN ISO 13998 and consists of a knife blade mounted on a 1 kilogram mass which is allowed to fall 250mm onto the sample of chainmail. In order to meet the requirement for cut resistance, the chainmail must resist penetration by the tip of the knife blade. Other requirements concern innocuousness, area of protective coverage, size of interstices (gaps), and the strength of connection between glove and armguard.
Different types of cutting edge are used in powered knives, from rotary or straight blades with straight edges to scalloped edges or even serrated or saw-toothed edges. Users must appreciate that even chainmail will eventually be cut through by a powered blade and toothed edge knives with teeth more than 1mm in height pose a risk of snagging in the chain mail material, which might create other hazards.
Further information on SATRA's PPE certification and testing services is available at www.satra.com/ppe
How can we help?
15 PER CENT DISCOUNT ON FIRST SATRA TEST — please click here.
SATRA is able to carry out the tests specified in EN 14328 on chainmail gloves for protection against powered knives. We can also carry out the EU type-examination on these products, which is necessary if they are intended to be placed on the European market. Please email ppe@satra.com for more information.
---