SATRA STM 610 Cut resistance evaluator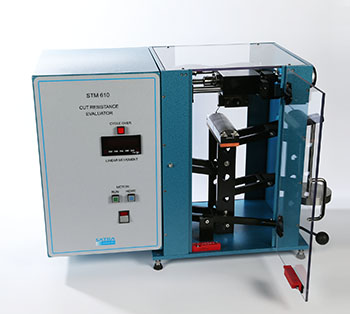 This tester applies a cut to the sample with a straight blade. A number of cuts are made each using a new blade and using a different contact force.
A graph is then plotted of cutting stroke length compared to blade loading to predict the force at which the blade will just penetrate the material at 20mm stroke. That force in newtons gives the cut index and EN 388:2003 includes a potential correlation with the blade cut index value such as that produced by STM 611.
The STM 610 complies with EN ISO 13997-99, ANSI/ISEA 105-16 and ASTM F2992/F2992M-15 standards.