Test Method: SATRA TM203
Tightness of screw-in studs
January 1998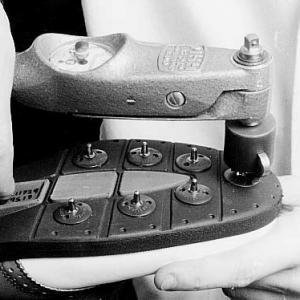 SCOPE
This method is intended to determine the torque required to remove screw-in studs from a whole shoe, to assess the ease with which a stud may become loose during wear. This method is applicable to all types of special purpose footwear that incorporate screw-in studs as part of the sole.
PRINCIPLE
A whole shoe is fitted onto a shoemaker's foot so that the studs are uppermost. A torque wrench fitted with a stud key is placed onto each of the studs in turn and the torque required to loosen them is measured.
REFERENCES
This Test Method does not reference any additional Standards or Test Methods.
HISTORY
First issued January 1998.
AVAILABILITY
This test method is available to members and non-members.
PRICE (ex. VAT)
This price is for a printed copy of the Test Method.
Members: £75
Non-members: £215
TYPE
USAGES
---