Test Method: SATRA TM154
Shoe lace to shoe lace and shoe lace to lace carrier abrasion
March 2018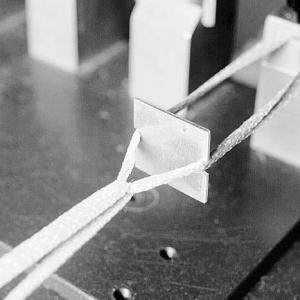 SCOPE
This method is intended to determine the abrasion resistance of a shoe lace to repeated rubbing against either a similar shoe lace, or a lace carrier. The method can also be used to assess the abrasion resistance of a lace carrier. The method is applicable to all types of shoe laces and lace carriers.
PRINCIPLE
A length of the shoe lace to be tested is threaded through a loop formed by:
Method 1: Lace to lace abrasion - a second piece of the same lace, held open by a spacer.
Method 2: Lace to carrier abrasion - a lace carrier.
The shoe lace is bent through a fixed acute angle at the point of contact with the loop. It is then held under a standard tension while it is repeatedly drawn back and forth through the loop until failure occurs.
REFERENCES
This Test Method does not reference any additional Standards or Test Methods.
HISTORY
First issued September 1992. Revised March 2018.
AVAILABILITY
This test method is available to members and non-members.
PRICE (ex. VAT)
This price is for a printed copy of the Test Method.
Members: £75
Non-members: £215
TYPE
USAGES
---