Test Method: SATRA TM165
Tab strength
November 1992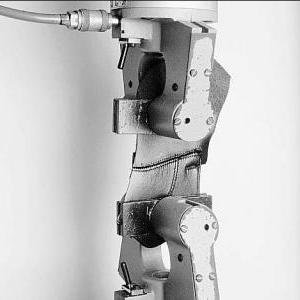 SCOPE
This method is intended to determine the force required to tear a footwear upper at the tab region. The method is particularly applicable to the tabs on footwear with a gibson style forepart.
PRINCIPLE
A test specimen, cut from a footwear upper so that it contains the tab, is aligned so that the tab stitching, between the quarter and vamp, is approximately at right angles to the axis of a tensile testing machine. The specimen is mounted in the machine with the tongue or vamp clamped in one jaw and the quarter clamped in the other jaw, see cover photograph. The jaws are moved apart until the tab fails. The maximum force and the type of failure of the test specimen are recorded.
REFERENCES
BS EN 10002-2: 1992 - Verification of the force measuring system of the tensile testing machine.
HISTORY
First issued November 1992.
AVAILABILITY
This test method is available to members and non-members.
PRICE (ex. VAT)
This price is for a printed copy of the Test Method.
Members: £75
Non-members: £215
TYPE
USAGES
---