Test Method: SATRA TM244
Luggage fittings attachment strength
June 2007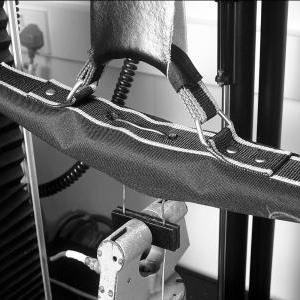 SCOPE
This test method is intended to determine the strength of external or internal load bearing fittings, such as handles, straps, links, clips and D rings on luggage. The method is applicable to all luggage and accessories.
PRINCIPLE
A test specimen containing the fitting is gradually stressed by a tensile machine until failure occurs, either of the attachment or of the fitting itself. The force and the type and position of the failure are determined.
REFERENCES
This Test Method does not reference any additional Standards or Test Methods.
HISTORY
First issued June 2007.
AVAILABILITY
This test method is available to members and non-members.
PRICE (ex. VAT)
This price is for a printed copy of the Test Method.
Members: £75
Non-members: £215
TYPE
USAGES
---