Test Method: SATRA TM281
Peel strength of bottom constructions in complete footwear
September 2002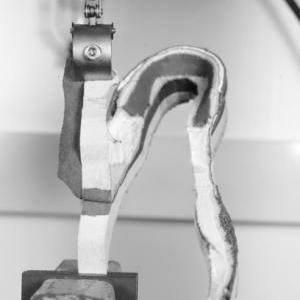 SCOPE
This test method is intended to determine the strength of the bond between components of the bottom construction, and the bottom and the upper, around the whole lasted margin of complete footwear. The method is applicable to all footwear styles with bonded soles, except for narrow strap sandals, but especially sports and leisure footwear with multi-component bottoms.
PRINCIPLE
Test specimens are prepared by cutting away the footwear upper then cutting a strip from the perimeter of the footwear bottom which includes all bonded components. If bumper strips or flaps are present, further test specimens are cut which include these components.
Each bonded material combination is peeled, as far as practicable, throughout the bonded length using a tensile testing machine. The force required to separate the components is measured and the type of bond failure assessed.
REFERENCES
BS EN 10002-2:1992 - Verification of the force measuring system of the tensile testing machine.
SATRA TM401 - Peel strength of adhesive bonds.
HISTORY
First issued September 2002.
AVAILABILITY
This test method is available to members and non-members.
PRICE (ex. VAT)
This price is for a printed copy of the Test Method.
Members: £75
Non-members: £215
TYPE
USAGES
---