Test Method: SATRA TM391
Flooring - biomechanical abrasion method
June 2016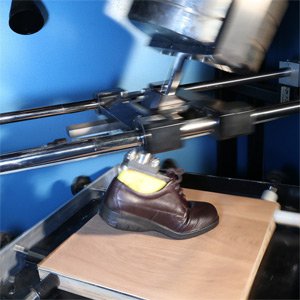 SCOPE
This test method is intended to determine abrasion and appearance retention of floorings. The method is applicable to most types of textile, resilient, laminate, rubber and some hard floorings and stair nosing. It can also be used to assess surface finishes and as an ageing step before measuring slip resistance using the pendulum test method (BS 7976-2).
PRINCIPLE
The standard footwear or soling material is mounted on a foot form, which is attached to the leg of a walking machine. The flooring under test is subjected to a cyclic walking action by the foot form, the specimen surface rotating incrementally while the forepart is in contact. Mass loss of the test specimen can be measured, and if required, the loss of thickness, as well as subjective assessment of appearance retention.
REFERENCES
BS 4051 (ISO 1765) - Determination of total thickness of textile floor coverings.
EN 1471 – Textile floor coverings – Assessment of change in appearance.
EN ISO 24346:2012 – Resilient floor coverings. Determination of overall thickness.
HISTORY
First issued November 2003 (Draft). Revised June 2016.
AVAILABILITY
This test method is available to members and non-members.
PRICE (ex. VAT)
This price is for a printed copy of the Test Method.
Members: £75
Non-members: £215
TYPE
USAGES
---