Test Method: SATRA TM406
Lacquer adhesion - cross hatch test
February 1999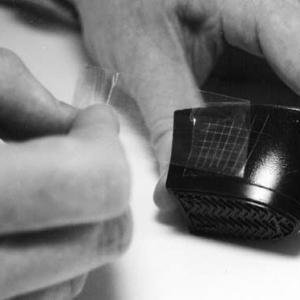 SCOPE
This method is intended to qualitatively determine the adhesion of a lacquer to a test material. It is applicable to all lacquered materials, especially plastic heels or polyurethane soles.
PRINCIPLE
A series of cuts are made in the test specimen to form a cross-hatch pattern. A piece of selfadhesive tape is stuck to and then quickly peeled from the cross-hatched area of the test specimen. The level of adhesion is qualitatively determined by noting the amount of lacquer which is removed.
REFERENCES
This Test Method does not reference any additional Standards or Test Methods.
HISTORY
First issued January 1968. Revised July 1972, February 1999.
AVAILABILITY
This test method is available to members and non-members.
PRICE (ex. VAT)
This price is for a printed copy of the Test Method.
Members: £75
Non-members: £215
TYPE
USAGES
---