Test Method: SATRA TM435
Qualitative odour absorption test
April 2010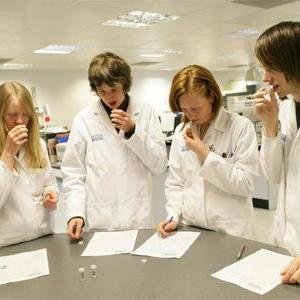 SCOPE
The method is intended to evaluate the odour absorbing properties of a material. The method is applicable to all types of materials in sheet form.
PRINCIPLE
A test specimen of the material to be assessed is stored at (23 ± 2)°C for 24 hours in a sealed vessel containing isobutyric acid, which is used to simulate the odour of perspiration. After this storage period the odour in the vessel is assessed and ranked subjectively, in comparison with the odour in a vessel containing: isobutyric acid only and vessels containing both reference odour absorbing materials and isobutyric acid. A measure of the odour absorbing properties of the material is obtained from these comparisons.
NOTE: Because of the health hazards associated with isobutyric acid, this procedure shall be undertaken only by suitably trained personnel.
REFERENCES
SATRA TM351:1996 Bottle Incubation Test.
HISTORY
First issued April 2010.
AVAILABILITY
This test method is available to members and non-members.
PRICE (ex. VAT)
This price is for a printed copy of the Test Method.
Members: £75
Non-members: £215
TYPE
USAGES
---