Test Method: SATRA TM133
Resistance to crack initiation and growth - belt flex method
August 2017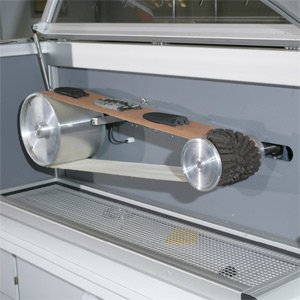 SCOPE
This method is intended to determine the resistance of a component or material to crack initiation and growth due to repeated flexing. The method is mainly applicable to soles of footwear but may also be used with certain other flexible components.
PRINCIPLE
A test specimen is bonded, with strong flexible adhesive, to a continuous belt which is driven round two rollers. The spacing and radius of the rollers is such that the test specimen is repeatedly subjected to a short period of rapid flexing followed by a longer period unflexed which simulates the wear conditions of a footwear sole. The specimen is flexed for a fixed number of cycles and the number of cracks which form and their severity are recorded.
REFERENCES
SATRA TM205 - Hardness of rubber, polyurethane and plastics – Durometer method.
HISTORY
First issued February 1989. Revised March 1993, August 2017.
AVAILABILITY
This test method is available to members and non-members.
PRICE (ex. VAT)
This price is for a printed copy of the Test Method.
Members: £75
Non-members: £215
TYPE
USAGES
---