Test Method: SATRA TM137
Tensile properties of plastics and rubbers
June 1995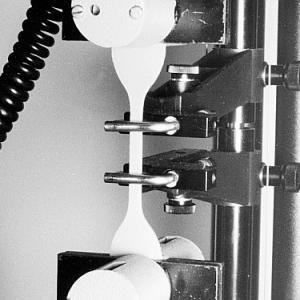 SCOPE
This method is intended to determine the tensile properties of a material. The method is applicable to all types of polymeric material and in particular footwear soling materials or suitable material cut from finished shoes.
PRINCIPLE
A dumb-bell shaped test specimen of standard thickness is gradually stretched, by a tensile testing machine, until it fails. The tensile strength and extension at break of the specimen are both determined. If required, the tensile stress at a predefined extension may also be determined.
REFERENCES
BS 903: Part A38: 1991 – Method A – Methods for the determination of dimensions of test pieces and products for test purposes.
BS EN 10002-2: 1992 – Verification of the force measuring system of the tensile testing machine.
HISTORY
First issued June 1995.
AVAILABILITY
This test method is available to members and non-members.
PRICE (ex. VAT)
This price is for a printed copy of the Test Method.
Members: £75
Non-members: £215
TYPE
USAGES
---