Test Method: SATRA TM151
Strength of fastened buckles
May 1999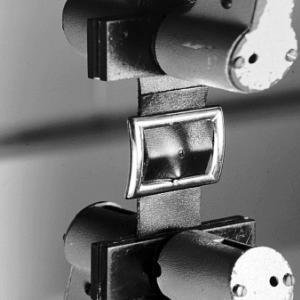 SCOPE
This test method is intended to determine the strength of buckles under conditions which correspond to the fully fastened state in wear. The method is applicable to all types of buckle.
PRINCIPLE
The buckle bar, or its chape, is attached to a strip of upper leather or a shoe lace. A second strip of leather, corresponding to the buckle strap, is inserted in the normal way through the buckle. The two strips are then pulled apart in a tensile testing machine until some part of the buckle fails. The force at failure and the type of failure are recorded.
REFERENCES
BS EN 10002-2 : 1992 - Verification of the force measuring system of the tensile testing machine.
HISTORY
First issued August 1989. Revised May 1999.
AVAILABILITY
This test method is available to members and non-members.
PRICE (ex. VAT)
This price is for a printed copy of the Test Method.
Members: £75
Non-members: £215
TYPE
USAGES
---