Test Method: SATRA TM185
Resistance to water spotting of leathers, textiles and coated fabrics
August 2021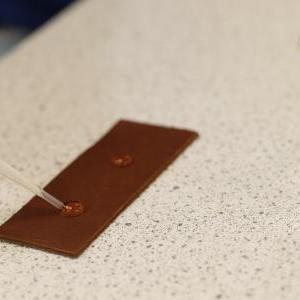 SCOPE
This method is intended to determine the resistance of a material to spotting by water. Effects such as marking, staining, blistering and colour change are assessed. The method is mainly applicable to leathers, textiles and coated fabrics.
PRINCIPLE
Two drops of water are placed on the test specimen. After 30 minutes surplus water is blotted from one of the drops and any visible effects are observed. The other drop is left to evaporate for 16 hours and any visible effects on this and the specimen that had been blotted after 30 minutes are observed. Changes in colour are also assessed on both dried spotted areas using a grey scale.
REFERENCES
EN ISO 3696 – Water for analytical laboratory use. Specification and test methods.
ISO 105-A01 - Textiles - Test for colour fastness - Part A01 - General principles of testing.
ISO 105 – A02 - Textiles – Test for colour fastness - Part A02: Colour fastness of leather and textiles. Grey scale for assessing change in colour.
HISTORY
First issued May 1995. Revised August 2021.
AVAILABILITY
This test method is available to members and non-members.
PRICE (ex. VAT)
This price is for a printed copy of the Test Method.
Members: £75
Non-members: £215
TYPE
USAGES
---