Test Method: SATRA TM201
Water and oil repellency - shoe care products
July 2021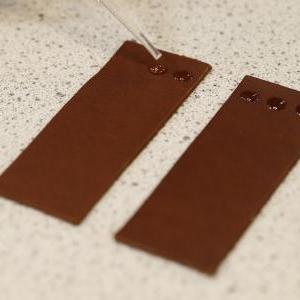 SCOPE
This method is intended to determine the effect of a shoe care product, such as a polish or spray, on the water and/or oil repellency of a material. The method is applicable to shoe care products which make claims with regard to water repellency and/or providing some form of protection against staining by oil. It can also be used on untreated material which is intended to have a degree of water and/or oil repellency.
Method A uses alcohol-based liquids so is not suitable for treatments that are soluble in alcohols. Method B uses hydrocarbon-based solvents so is not suitable for treatments that are soluble in hydrocarbon-based solvents.
PRINCIPLE
Drops of standard liquids are placed onto both untreated test specimens and test specimens which have been treated with the shoe care product. Mixtures of water and propan-2-ol (Isopropyl alcohol) are used to represent water while liquid paraffin and hydrocarbons are used to represent oil. Each standard liquid has a numerical value, the water or oil repellency of the test specimen is recorded as the highest value of standard liquid which is not absorbed by the specimen.
REFERENCES
ISO 3696 – Water for analytical laboratory use – specification and test methods.
HISTORY
First issued October 1999. Revised July 2021.
AVAILABILITY
This test method is available to members and non-members.
PRICE (ex. VAT)
This price is for a printed copy of the Test Method.
Members: £75
Non-members: £215
TYPE
USAGES
---