Test Method: SATRA TM205
Hardness of rubber, polyurethane and plastics - durometer method
August 2016 (2017)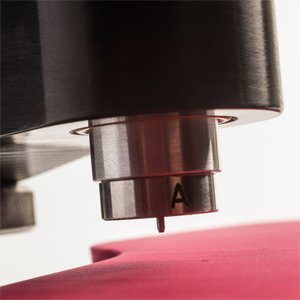 SCOPE
This test method is intended to determine the hardness of a material using one of four durometer types, Shore A, Shore D, Asker C or Shore OO. The method is applicable to all types of compact or microcellular polymeric materials from soft foams through flexible polymers to hard plastics. The method is not applicable to the testing of coated fabrics.
PRINCIPLE
A specified indentor is forced into the material under specified conditions, and the hardness is indicated on a scale derived from the penetration of the indentor into the surface. The Shore A durometer is used for measuring most footwear outsole and midsole materials, the Shore D for very hard materials such as plastic top-pieces or football studs and the Asker C and Shore OO for very soft materials such as footbed foams and some midsole materials. Hardness measurements may be based on initial indentation, indentation after a specified period of time, or both.
REFERENCES
BS 5131-2.7: 1980 (1992) – Methods of test for footwear and footwear materials - The preparation of test pieces from soling materials for physical testing.
HISTORY
First issued February 1999. Revised August 2016, June 2017.
AVAILABILITY
This test method is available to members and non-members.
PRICE (ex. VAT)
This price is for a printed copy of the Test Method.
Members: £75
Non-members: £215
TYPE
USAGES
---