Test Method: SATRA TM207
Colour fastness to domestic & commercial laundering
May 2002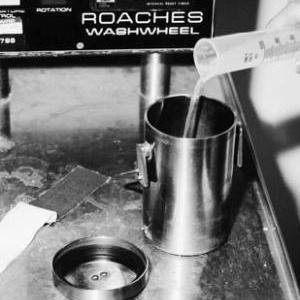 SCOPE
This test method is intended to determine the potential for colour loss of textile materials and their propensity to stain other textiles during domestic and commercial laundering. The method is applicable to all fabrics and to fabric samples cut from garments.
PRINCIPLE
A test specimen with a multifibre strip, together with steel balls is agitated in a wash liquor, then rinsed and allowed to dry. The test specimen is assessed with a grey scale for change in colour, and the multifibre strip is assessed with a grey scale for staining to determine whether any of its components became stained by colour lost from the test specimen during laundering.
REFERENCES
BS 950: Part 1: 1980 - Illuminant for colour matching and colour appraisal.
BS EN 20105-A02: 1995 - Grey scale for assessing change in colour.
BS EN 20105-A03: 1995 - Grey scale for assessing staining.
EN ISO 3696: 1995 - Water for analytical laboratory use - Specification and test methods.
ISO 105-F10: 1989 - Textiles - Tests for colour fastness - Part F10: Specification for adjacent fabrics: Multifibre.
HISTORY
First issued May 2002.
AVAILABILITY
This test method is available to members and non-members.
PRICE (ex. VAT)
This price is for a printed copy of the Test Method.
Members: £75
Non-members: £215
TYPE
USAGES
---