Test Method: SATRA TM208
Colour fastness to hot pressing
May 2002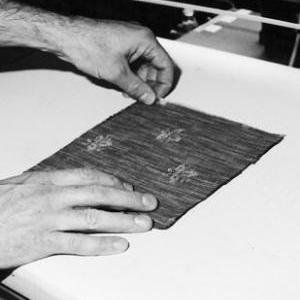 SCOPE
This test method is intended to determine the effect on the colour of textile materials of pressing with a hot iron or hot head press. The method is applicable to all fabrics and to fabric samples cut from garments.
PRINCIPLE
A conditioned test specimen is brought into contact with a heated press, at an agreed temperature, as prescribed by its ironing care symbol, and an agreed pressure. The test specimen is then reconditioned and examined in a light cabinet and assessed with a grey scale for colour change.
REFERENCES
BS 950: Part 1: 1980 - Illuminant for colour matching and colour appraisal.
BS EN 20105-A02: 1995 - Grey scale for assessing change in colour.
BS EN 23758: 1994 - Textiles - Care labelling code using symbols.
ISO 3758: 1991 - Textiles - Care labelling code using symbols.
HISTORY
First issued May 2002.
AVAILABILITY
This test method is available to members and non-members.
PRICE (ex. VAT)
This price is for a printed copy of the Test Method.
Members: £75
Non-members: £215
TYPE
USAGES
---