Test Method: SATRA TM211
Dimensional stability to steam
May 2002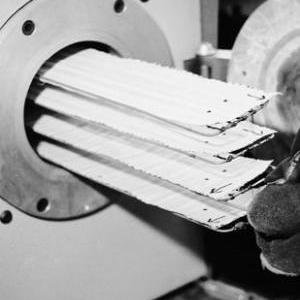 SCOPE
This SATRA test method is intended to determine the effects of steam on the dimensional stability of fabrics. The method is applicable to all fabrics used in the manufacture of clothes, footwear, furniture or other made up articles.
PRINCIPLE
Conditioned test specimens, taken in the length and width of a fabric, are measured to determine their dimensions. They are then laid horizontally, free from tension, in a cylinder through which steam is passed. After a timed exposure to the steam the test specimens are removed from the cylinder and allowed a relaxation period. This procedure is repeated two further times. The test specimens are then reconditioned and remeasured. The average percentage change in both length and width of the test specimens is calculated and reported.
REFERENCES
This Test Method does not reference any additional Standards or Test Methods.
HISTORY
First issued May 2002.
AVAILABILITY
This test method is available to members and non-members.
PRICE (ex. VAT)
This price is for a printed copy of the Test Method.
Members: £65
Non-members: £195
TYPE
USAGES
---