Test Method: SATRA TM214
Crease recovery of folded fabrics
May 2002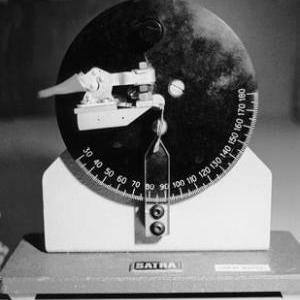 SCOPE
This SATRA test method is intended to provide a simple means of measuring the capacity of a fabric to recover from creasing. The test method is particularly applicable to cotton and cotton blend fabrics, but may not be suitable for all types of fabrics.
PRINCIPLE
Conditioned test specimens, cut in the length and width of a fabric, are folded and subjected to a load in order to crease them. Each test specimen is individually placed in a crease recovery angle apparatus and the degree to which the folded fabric opens up or recovers from creasing is measured on an angular scale.
REFERENCES
Test Method: SATRA TM209 - Dimensional stability to washing.
Test Method: SATRA TM210 - Dimensional stability to dry cleaning.
HISTORY
First issued May 2002.
AVAILABILITY
This test method is available to members and non-members.
PRICE (ex. VAT)
This price is for a printed copy of the Test Method.
Members: £65
Non-members: £195
TYPE
USAGES
---