Test Method: SATRA TM216
Shower resistance
April 2003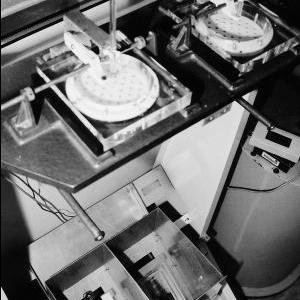 SCOPE
This test method is intended to determine the resistance of fabrics to an artificial shower. The method is applicable to all fabrics, particularly those that have been given a water repellent treatment. The shower test apparatus is not intended for testing samples which have marked wicking properties, for example pure untreated cotton.
PRINCIPLE
A number of test specimens are cut from the fabric, conditioned and placed in airtight containers. The mass of each assembly is then measured. The test specimens are mounted under a defined tension over inclined ribbed glass backing plates on a shower testing apparatus.
A measured volume of water is then allowed to fall in a steady shower onto the test specimen, and water penetrating through the test specimen is collected in a measuring vessel. If more than a defined amount of water penetrates through the test specimen, then the time taken for the defined amount to penetrate through is measured.
The test specimens are removed from the apparatus, loosely attached water is removed, and the test specimens are returned to their respective airtight containers and reweighed. The mean percentage water absorption, mean water penetration for the fabric, and if appropriate the mean time for penetration of the defined amount of water are calculated.
REFERENCES
EN ISO 3696: 1995 Water for analytical laboratory use - Specification and test methods.
HISTORY
First issued April 2003.
AVAILABILITY
This test method is available to members and non-members.
PRICE (ex. VAT)
This price is for a printed copy of the Test Method.
Members: £75
Non-members: £215
TYPE
USAGES
---