Test Method: SATRA TM228
Abrasion resistance of trims - drum method
February 2002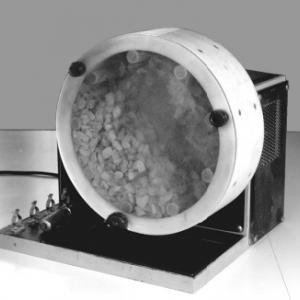 SCOPE
This method is intended to determine the resistance of a coated trim or accessory to abrasion. The method is applicable to all coated or painted trims and accessories for items of footwear or clothing.
PRINCIPLE
The test specimen is tumbled for a set time inside a hollow drum with standard granite chippings. The damage to the test specimen is visually assessed by comparison with a test specimen in its original condition. Ratings are assigned for the loss of coating and the level of coating adhesion.
REFERENCES
This Test Method does not reference any additional Standards or Test Methods.
HISTORY
First issued February 2002.
AVAILABILITY
This test method is available to members and non-members.
PRICE (ex. VAT)
This price is for a printed copy of the Test Method.
Members: £75
Non-members: £215
TYPE
USAGES
---