Test Method: SATRA TM230
Dynamic footwear water penetration test
August 2017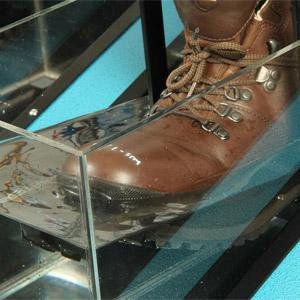 SCOPE
This test method is intended to provide a means of evaluating the degree of water resistance of footwear. This method is applicable to all types of shoes and boots with a heel pitch that is compatible with the test foot form. It is not applicable to those that are too stiff to flex in normal wear.
PRINCIPLE
The footwear is secured in a flexing machine with water at a defined level. The footwear is flexed at a constant rate using a limited force and monitored for water penetration either by inspection at intervals or via an automatic water detection system.
REFERENCES
This Test Method does not reference any additional Standards or Test Methods.
HISTORY
First issued May 2002. Revised September 2014, December 2016, August 2017.
AVAILABILITY
This test method is available to members and non-members.
PRICE (ex. VAT)
This price is for a printed copy of the Test Method.
Members: £75
Non-members: £215
TYPE
USAGES
---