Test Method: SATRA TM355
Colour fastness to dry cleaning
February 1999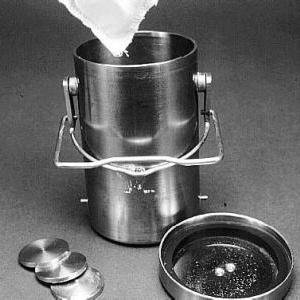 SCOPE
This method is intended for the assessment of the colour fastness of textile products in the presence of a dry cleaning solvent. The method is not intended to represent cleansing in solvent water mixes or the likely effects of commercial dry cleaning processes such as water spotting, solvent spotting or steam pressing. The results of this test should not be interpreted, therefore, as representative of the total responses of a material to all the treatments that might be experienced in a commercial dry cleaners. The method is applicable to all textile products suitable for dry cleaning but is not intended for the evaluation of the durability of textile finishes.
PRINCIPLE
A test specimen in contact with a cotton fabric bag together with non-corrodible steel discs is agitated in a solvent, squeezed and dried in hot air. The test specimen is later assessed against a grey scale for change in colour. Also, by transmitted light, a specimen of filtered test solvent is compared with unused solvent and assessed for staining against an appropriate grey scale.
REFERENCES
ISO 105-A02: 1987 – Grey scale for assessing change in colour.
ISO 105-A03: 1987 – Grey scale for assessing staining.
HISTORY
First issued February 1999.
AVAILABILITY
This test method is available to members and non-members.
PRICE (ex. VAT)
This price is for a printed copy of the Test Method.
Members: £75
Non-members: £215
TYPE
USAGES
---