Test Method: SATRA TM373
The quantitative determination of butylated hydroxytoluene in packaging materials
April 2020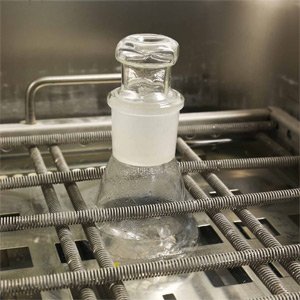 SCOPE
Butylated hydroxytoluene (BHT) (2,6-Bis(1,1-dimethylethyl)-4-methylphenol, CAS: 128-37-0) is a highly mobile antioxidant that is known to cause yellowing in light coloured materials under atmospheric conditions. This method is intended to determine the concentration of extractable BHT in a wide range of packaging materials.
PRINCIPLE
A test specimen is extracted for 4 hours at 30°C with constant stirring in an acetone solution containing 5mg/l of internal standard. Detection and quantification are performed using a Gas Chromatograph with Mass Spectrometry (GC-MS).
REFERENCES
EN ISO 1042. Laboratory glassware. One-mark volumetric flasks.
EN ISO 648. Laboratory glassware. Single-volume pipettes.
EN ISO 8655-2. Piston-operated volumetric apparatus. Piston pipettes.
HISTORY
First issued April 2016. Revised April 2020.
AVAILABILITY
This test method is available to members and non-members.
PRICE (ex. VAT)
This price is for a printed copy of the Test Method.
Members: £75
Non-members: £215
TYPE
USAGES
---