Test Method: SATRA TM396
Screening for the presence of chlorides in solid organic materials - the Beilstein test
March 2014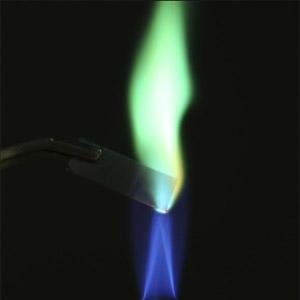 SCOPE
The method is intended to provide an indication of whether an organic material may contain chloride(s). The method is particularly applicable to polymeric materials such as mouldings, pre-moulded compound, coated fabrics and dried adhesive and for checking for halogenating priming of bonding surfaces.
PRINCIPLE
A very small quantity of the test material is introduced to the surface of a copper probe and burnt in a gas flame. The colour of the flame provides an indication of whether or not chlorine may be present.
REFERENCES
This Test Method does not reference any additional Standards or Test Methods.
HISTORY
First issued March 2014.
AVAILABILITY
This test method is available to members and non-members.
PRICE (ex. VAT)
This price is for a printed copy of the Test Method.
Members: £75
Non-members: £215
TYPE
USAGES
---