Test Method: SATRA TM411
Peel strength of footwear sole bonds
March 2023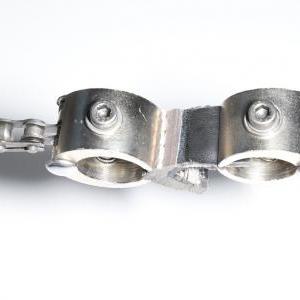 SCOPE
This method is intended to determine the strength of the bond between the sole and the upper or between bonded layers of the bottom construction, at a number of points around the lasted margin of completed footwear. The method is applicable to all types of moulded-on and stuck-on soles where the sole is attached directly to the lasted margin of the upper, except for narrow strap sandals (less than 35 mm). See also clause 9.2.
PRINCIPLE
Test specimens are prepared by cutting a strip of the sole together with an attached strip of upper, or a strip of the outsole and attached strip of midsole, from a completed item of footwear. The exact configuration of the test specimen is dependent on the type of construction, and for this reason two fundamentally different methods are used to prepare and peel the specimens:
 Method 1: For constructions where the sole edge projects sufficiently beyond the side of the upper to provide a portion which can be gripped during the test, the test specimen is peeled inwards across the lasted margin. (Construction type A in Figure 1)
 Method 2: For other constructions the specimen is peeled along the edge of the sole, either forwards or backwards. (Construction types B – G in Figure 1)
Each specimen is peeled using a tensile testing machine and the force required to separate the two materials is measured. In all cases the objective is to test the bond strength nearest to the edge of the assembly which will be exposed to view.
REFERENCES
BS EN ISO 7500-1:2018 - Metallic materials. Calibration and verification of static uniaxial testing machines. Tension/compression testing machines. Calibration and verification of the force-measuring system.
HISTORY
First issued December 1980. Revised May 1992, June 2019, March 2023.
AVAILABILITY
This test method is available to members and non-members.
PRICE (ex. VAT)
This price is for a printed copy of the Test Method.
Members: £75
Non-members: £215
TYPE
USAGES
---