Test Method: SATRA TM50
Resistance of slide fasteners to repeated opening and closing
March 2018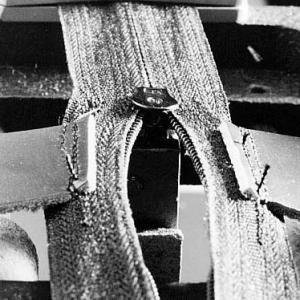 SCOPE
This method is intended to determine the resistance of a slide fastener to repeated opening and closing. The method is applicable to all types of slide fastener.
PRINCIPLE
The fastener is held under tension along its length and across its width while it is repeatedly opened and closed. The test is stopped when the fastener has either failed or been subjected to a set number of cycles.
REFERENCES
This Test Method does not reference any additional Standards or Test Methods.
HISTORY
First issued May 1968 (draft). Revised March 1970 (draft), July 1979 (draft), December 1992, March 2018.
AVAILABILITY
This test method is available to members and non-members.
PRICE (ex. VAT)
This price is for a printed copy of the Test Method.
Members: £75
Non-members: £215
TYPE
USAGES
---