Test Method: SATRA TM65
Split tear strength
June 2021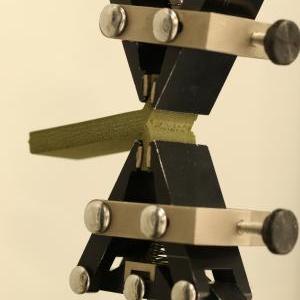 SCOPE
This method is intended to determine the split tear strength of a cellular material. It is applicable to sheet soling materials and specimens prepared from moulded soles.
PRINCIPLE
Rectangular specimens of the material are split for part of their length. The split is made through the centre of the specimen and is kept parallel to its top and bottom faces. This produces two tongues which are clamped into the jaws of a tensile testing machine and the maximum force per unit width required to propagate the split a specified distance is recorded.
Two methods are provided. Method 1 reflects the 1992 version of SATRA TM65 and may be the only possible method to use on test items which do not permit specimens thicker than approximately 5 mm to be obtained, for example, some designs of finished soles. Method 1 is also applicable to moulded plates of any thickness which may be reduced to the standard 5 mm thickness.
Method 2 is mainly applicable to materials available in plain sheet form (eg., moulded test plates without a tread pattern). This method is convenient for material suppliers who may be moulding test plates that are 10 mm or thicker. The specimen shall be 8 mm thick after the moulded surface 'skins' have been removed from both main surfaces.
It is recommended that Method 2 be applied to moulded plates which are originally 10 mm or thicker and are reduced to 8 mm, otherwise they should be reduced to 5 mm and Method 1 followed.
The 2015 version of Method 2 allowed for one or both moulded skinned surfaces to be left intact. This is no longer the case. However, it is recognised that some users may wish to do this for in-house quality control purposes, in which case it should be documented as a deviation from the standard method.
REFERENCES
EN ISO 7500-1 - Metallic materials. Verification of static uniaxial testing machines. Tension/compression testing machines. Verification and calibration of the force-measuring system.
SATRA TM136 - Thickness / effective thickness of soling materials and sole units or ISO 23529, Rubber - General procedures for preparing and conditioning test pieces for physical test methods.
HISTORY
First issued May 1970. Revised May 1980, May 1992, March 2015, June 2021.
AVAILABILITY
This test method is available to members and non-members.
PRICE (ex. VAT)
This price is for a printed copy of the Test Method.
Members: £75
Non-members: £215
TYPE
USAGES
---