Test Method: SATRA TM108
Strength of top-piece attachment
April 2021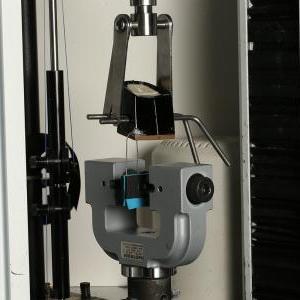 SCOPE
This method is intended to determine the force required to detach the top-piece (top-lift) from a shoe heel. For a top-piece which is moulded around a metal spigot the method can also be used to assess the strength of attachment of the top piece to the spigot regardless of whether it is inserted into a heel. The method is applicable to all types of top-pieces but particularly plastic types used on raised heels.
Note: Rubber top-pieces, may alternatively be tested for adhesion peel strength by using SATRA TM411 provided that the top-piece is adequately flexible to allow the peeling action.
PRINCIPLE
The force required to remove the top-piece front from the heel or spigot is measured. This method covers two basic types of construction:
Construction A – Top-pieces without a spigot
Construction B – Polymeric top-pieces with a spigot
With the top-piece aligned to be horizontal, one of its front edge corners adjacent to the heel breast is pulled away from the heel in a direction perpendicular to the top-piece/heel interface by means of a tensile strength tester until it is detached from the heel (Construction A) or, in the case of small top-pieces, detached from the metal spigot head contained within (Construction B). The top-piece corner is pulled by means of a wire loop inserted through a hole drilled near the corner, perpendicular to the top-piece/heel interface. When the top-piece is attached to a heel it is first necessary to cut away a small portion of the heel corner to allow the wire loop to pass completely through the thickness of the top-piece. The heel (or top-piece spigot in the case of Construction B) is linked to the other jaw of the tensile tester.
REFERENCES
EN ISO 7500-1 - Verification of static uniaxial testing machines. Tension/compression testing machines. Verification and calibration of the force-measuring system.
SATRA TM411 - Peel strength of footwear sole bonds.
HISTORY
First issued January 1981 (draft). Revised September 1990 (draft), September 1992, March 2020, April 2021.
AVAILABILITY
This test method is available to members and non-members.
PRICE (ex. VAT)
This price is for a printed copy of the Test Method.
Members: £75
Non-members: £215
TYPE
USAGES
---