Test Method: SATRA TM136
Thickness/effective thickness of soling materials and sole units
October 1996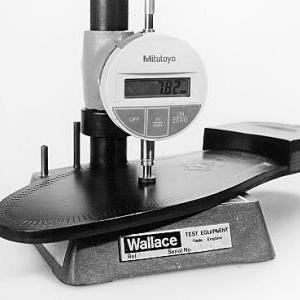 SCOPE
This method is intended to determine the thickness of a plain sheet footwear soling material or the effective thickness, cleat depth and effective cleat depth of a soling or sole unit with a surface pattern. The method is applicable to all types of solid and cellular polymeric footwear soling materials, and all types of soles including those with surface patterns.
PRINCIPLE
Method 1 – Direct method: for accurate measurements on smooth materials of uniform thickness. A thickness gauge foot is applied to a portion of a test specimen under a specified pressure and after a set time the thickness is measured. The procedure is repeated at a range of positions and the arithmetic mean thickness value is calculated.
Method 2 – Cross sectional area method: for solings or sole units with a tread pattern. A test sole unit is cut through its full thickness to produce a cross section of the tread pattern. The dimensions of the cross section, including the cleat depth, are measured with a graduated optical magnifier. Cross sectional areas of the tread pattern are calculated and the effective thickness and effective cleat depth are determined.
Method 3 – Gravimetric method: for solid non-absorbent sole units of uniform density. The mass, density and area of a test specimen are measured and its effective thickness calculated. The form of the sole must be as in Figure 1 (a) or (b), or as in Figure 1 (d) after removing any ribs or coring on the non-wearing surface. However, the slightly uneven non-wearing surface of a moulded-on sole is acceptable.
REFERENCES
BS 903 Part A38 : 1991 – Methods for the determination of dimensions of test pieces and products for test purposes.
HISTORY
First issued November 1986 (draft). Revised February 1987 (draft), March 1987, October 1996.
AVAILABILITY
This test method is available to members and non-members.
PRICE (ex. VAT)
This price is for a printed copy of the Test Method.
Members: £75
Non-members: £215
TYPE
USAGES
---