Test Method: SATRA TM163
Abrasion resistance - Taber method
October 1996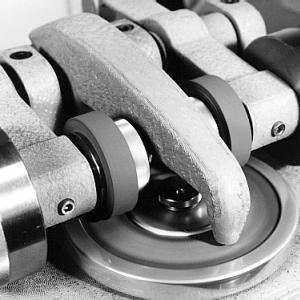 SCOPE
This method is intended to determine the abrasion resistance of a material or its surface coating. The method is mainly applicable to footwear upper and lining materials but can be used to assess any sheet material with a thickness of less than 5 mm.
PRINCIPLE
A circular specimen is rotated while two circular abrasive wheels roll and slip on its surface under a constant contact force. The abrasive wheels are free to rotate on an axis which is not aligned with the axis of rotation of the specimen. This produces an enhanced slipping and scuffing effect between the rolling abrasion wheels and the test specimen. The test is stopped after a standard number of revolutions and the damage to the test specimen is subjectively assessed. The mass loss and colour change of the test specimen are determined, if required. Three versions of the test are described.
REFERENCES
BS 950: Part 1:1980 – Illuminant for colour matching and colour appraisal.
BS EN 20105-A02:1995 – Grey scale for assessing change in colour.
HISTORY
First issued October 1996.
AVAILABILITY
This test method is available to members and non-members.
PRICE (ex. VAT)
This price is for a printed copy of the Test Method.
Members: £75
Non-members: £215
TYPE
USAGES
---