Test Method: SATRA TM240
Electrical resistance of footwear components
September 2001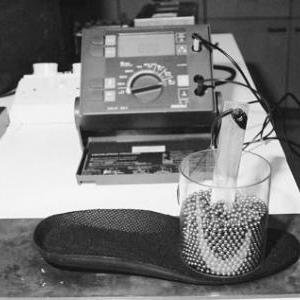 SCOPE
This method is intended to determine the electrical resistance of sheet materials. The method is mainly applicable to footwear underfoot components with electrically conductive and antistatic properties.
PRINCIPLE
After storage under defined conditions, the electrical resistance of a test specimen is measured through its full thickness when a specified test voltage is applied.
REFERENCES
This Test Method does not reference any additional Standards or Test Methods.
HISTORY
First issued August 2000. Revised September 2001.
AVAILABILITY
This test method is available to members and non-members.
PRICE (ex. VAT)
This price is for a printed copy of the Test Method.
Members: £75
Non-members: £215
TYPE
USAGES
---