Test Method: SATRA TM323
Qualitative test for acidity in leather
July 1998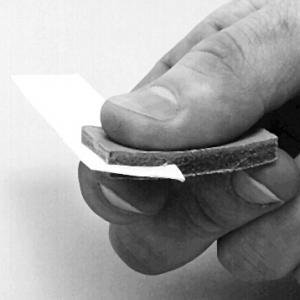 SCOPE
This test method is intended to determine the acidity of a material. It is mainly applicable to insole and sole leathers but may be used for other semi-rigid materials of thickness 4 mm or greater.
PRINCIPLE
A test specimen is split parallel to its outer surface. The exposed surfaces are moistened and thymol blue indicator paper, see section 8.1, is compressed between them. The severity of colour change of the indicator paper indicates the acidity of the test specimen.
REFERENCES
This Test Method does not reference any additional Standards or Test Methods.
HISTORY
First issued December 1967. Revised December 1968, September 1980, July 1998.
AVAILABILITY
This test method is available to members and non-members.
PRICE (ex. VAT)
This price is for a printed copy of the Test Method.
Members: £65
Non-members: £195
TYPE
USAGES
---