Test Method: SATRA TM1
Thickness of leather and insole materials
April 2021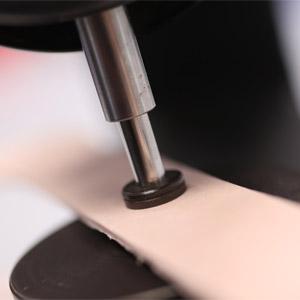 SCOPE
This method is intended to determine the thickness of a material. The method is mainly applicable to leather, fibreboard, toe puff and stiffener materials used in footwear construction but can be used with any type of sheet material.
PRINCIPLE
A predefined pressure is applied via a dead weight to a test specimen by pressing it between the surfaces of a presser foot and anvil. After a set time, the thickness of the test specimen is determined by measuring the distance between the surfaces of the presser foot and the anvil. This procedure is repeated at different positions on the specimen and the arithmetic mean thickness of the measurements calculated.
REFERENCES
This Test Method does not reference any additional Standards or Test Methods.
HISTORY
First issued December 1966. Revised April 1990, November 1992, November 2004, April 2021. Amended August 2013.
AVAILABILITY
This test method is available to members and non-members.
PRICE (ex. VAT)
This price is for a printed copy of the Test Method.
Members: £75
Non-members: £215
TYPE
USAGES
---