Test Method: SATRA TM31
Abrasion resistance - Martindale method
November 2021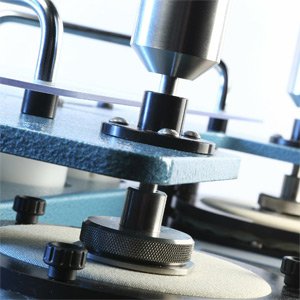 SCOPE
This method is intended to determine the resistance of a material to dry and wet abrasion. The method is mainly applicable to fabrics, coated fabrics and leathers but it can be used with any flexible sheet material.
PRINCIPLE
A number of circular test specimens are rubbed against pieces of a standard fabric abradant under a constant contact force, with half the number of abradant pieces being tested dry and half after wetting (some specifications may only require only dry or only wet testing). The relative movement between the abradant and specimen is a complex cyclic pattern (a Lissajous figure with only one cycle comprising sixteen revolutions) which produces rubbing in all directions. The test is stopped after a prescribed number of revolutions and the damage to the specimen assessed subjectively. The severity of the test can be changed by varying the total number of abrasion revolutions and the contact pressure between the test specimen and the abradant.
REFERENCES
EN ISO 2286-3 – Rubber- or plastics-coated fabrics. Determination of roll characteristics. Method for determination of thickness.
ISO 105-A01 - Textiles. Tests for colour fastness. General principles of testing.
ISO 105-A02 – Textiles. Tests for colour fastness. Grey scale for assessing change in colour.
SATRA TM28 - Mass per unit area.
HISTORY
First issued July 1970. Revised October 1973, June 1987, November 1988, October 1993, January 1997, April 2003, November 2021. Amended March 2005, September 2014.
AVAILABILITY
This test method is available to members and non-members.
PRICE (ex. VAT)
This price is for a printed copy of the Test Method.
Members: £65
Non-members: £195
TYPE
USAGES
---