Test Method: SATRA TM59
Longitudinal stiffness of insole backparts
September 2000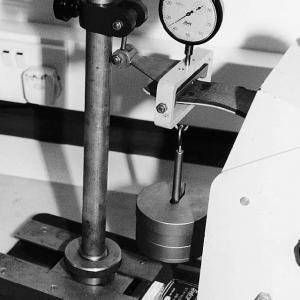 SCOPE
This test method is intended to determine the stiffness in the longitudinal direction of insole backparts used in footwear. The method is applicable to all insole backparts for all types of footwear, including plastic backparts with or without a shank, and fibreboard backparts reinforced with a shank.
PRINCIPLE
The test specimen is clamped at its rear end, in a moulded resin block, and bent as a cantilever beam by adding weights to the free end. The extent of the bending is measured and used to calculate the flexural rigidity of the backpart.
REFERENCES
This Test Method does not reference any additional Standards or Test Methods.
HISTORY
First issued May 1974. Revised April 1990, September 2000.
AVAILABILITY
This test method is available to members and non-members.
PRICE (ex. VAT)
This price is for a printed copy of the Test Method.
Members: £75
Non-members: £215
TYPE
USAGES
---