Test Method: SATRA TM159
Cushioning properties
February 2018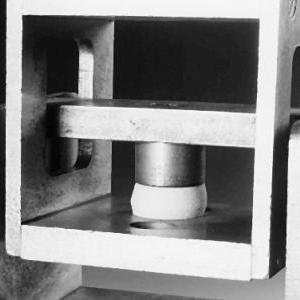 SCOPE
This method determines the cushioning properties of a material or assembly. It is primarily applicable to insocks (footbeds) and footwear midsoles but can also be used to assess any material intended for cushioning.
PRINCIPLE
The method assesses three different cushioning properties:
1 CUSHION ENERGY (CE) - The energy required to compress a specimen of material up to a standard pressure using a tensile testing machine. This is a finished product test (e.g. the moulded footbed with textile cover) which takes account of the thickness of the product.
2 CUSHION FACTOR (CF) - This is a bulk material property of homogenous materials and is assessed using a test specimen at least sixteen millimetres thick. The pressure on the surface of the test specimen at a predefined loading is multiplied by the volume of the test specimen under no load. This is then divided by the cushion energy of the specimen at the predefined load. The resulting value is termed the cushion factor [CF]. This test is appropriate, for example, to test plates of candidate material for footbeds.
3 RESISTANCE TO DYNAMIC COMPRESSION - The changes in dimensions and in cushion energy of a specimen are measured after a prolonged period of dynamic compression. This is an optional part of the test, applicable only to cushion energy.
REFERENCES
EN ISO 7500-1 - Metallic materials. Calibration and verification of static uniaxial testing machines. Tension/compression testing machines. Calibration and verification of the force-measuring system.
HISTORY
First issued June 1991 (draft). Revised June 1992, February 2002, February 2018.
AVAILABILITY
This test method is available to members and non-members.
PRICE (ex. VAT)
This price is for a printed copy of the Test Method.
Members: £75
Non-members: £215
TYPE
USAGES
---