Test Method: SATRA TM9
Surface water absorption and desorption
April 2019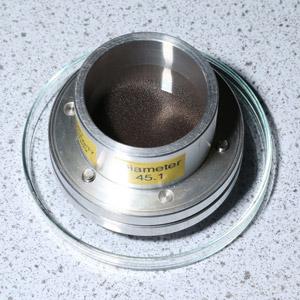 SCOPE
This method is intended to determine the amount of liquid water a material will absorb or transmit from its surface in a specified time. The rate of desorption (drying out) can also be assessed. The method is applicable to leather, textiles, coated fabrics and fibreboard materials used for the uppers, linings, insoles and insocks of footwear. The method can also be used to assess the effectiveness that surface treatments, such as shoe polish on leather has on absorption.
PRINCIPLE
A circular test specimen is clamped across the bottom of a hollow cylinder and a specified volume of water is poured into the top of the cylinder. After a set time the mass of water absorbed by, or transmitted through, the test specimen is measured. If required the sample can be allowed to dry over a period of time and the mass change during that time is measured.
REFERENCES
This Test Method does not reference any additional Standards or Test Methods.
HISTORY
First issued December 1966. Revised September 1970, May 1980, November 1992, April 2019.
AVAILABILITY
This test method is available to members and non-members.
PRICE (ex. VAT)
This price is for a printed copy of the Test Method.
Members: £75
Non-members: £215
TYPE
USAGES
---