Test Method: SATRA TM144
Friction (slip resistance) of footwear and floorings
March 2021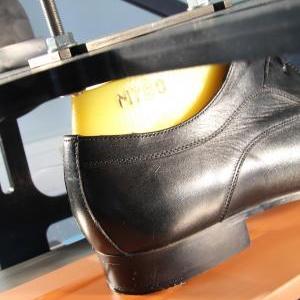 SCOPE
This method determines the coefficient of friction between footwear and test floors under conditions simulating those experienced in the phases of a typical walking step when slip is most likely to occur.
The method is applicable to all types of footwear (except pram shoes), outsole units, heel top-pieces (top-lifts) and sheet soling materials, also to all types of test floors, including ice, turf and gravel and with or without surface contaminants, for example, liquid water, oil and grease.
The test conditions specified in the method may be inappropriate for footwear or test floors that force or induce wearers to walk in an atypical manner. Unless biomechanical studies indicate that the specified conditions are suitable for such footwear or test floors, results obtained using such footwear or test floors should be treated with caution.
Special purpose footwear or fittings containing spikes, metal studs or similar may be tested on appropriate surfaces but the method does not fully take into account the risk of tripping due to footwear/ground interlock.
PRINCIPLE
The footwear item and the test floor are brought into contact, subjected to a specified vertical force for a short period of static contact and then moved horizontally relative to one another at a constant speed. The horizontal frictional force is measured at a given time after movement starts and the dynamic coefficient of friction is calculated for the particular conditions of the test.
REFERENCES
EN ISO 4287 – Geometrical Product Specifications (GPS) – Surface texture: Profile method. Terms, definitions and surface texture parameters.
IS0 4662 – Rubber, vulcanized or thermoplastic – Determination of rebound resilience.
ISO 3696 – Water for analytical laboratory use. Specification and test methods.
ISO 48-2 – Rubber, vulcanized or thermoplastic. Determination of hardness. Hardness between 10 IRHD and 100 IRHD.
SATRA TM362 - Abrasion resistance of soles - Biochemical Method.
HISTORY
First issued June 1992. Revised February 1999, December 2004 (Issue 1), May 2006 (Issue 2), December 2007, February 2011, March 2021.
AVAILABILITY
This test method is not available for purchase online. Please contact testmethods@satra.com for further information.
TYPE
USAGES
---